Rating:

( 0 Rating )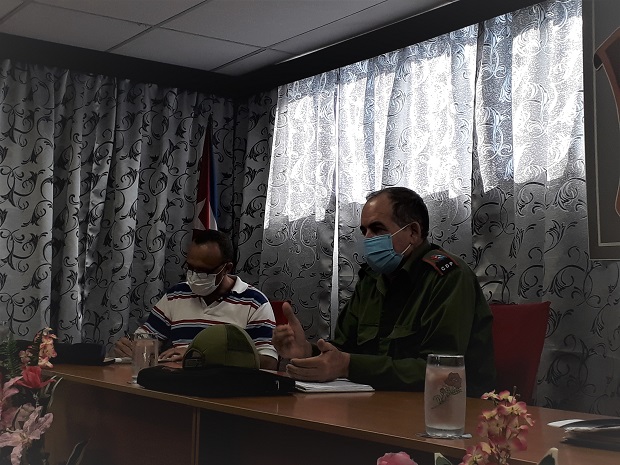 It is intensified the work to confront the spread of Covid19, which is experienced in Ciego de Ávila again, when this Friday, January 29, during the work session of the Social Economic Group, health authorities of the province reported on the diagnosis in the last hours that 55 people were infected with the virus SARS-CoV-2, which causes COVID-19 in the province of Ciego de Ávila: Baraguá (4), Chambas (1), the main municipality (28), Florencia (2), Majagua (3) and Morón (17).
Chaired by Tomás Alexis Martín Venegas, Vice President of the Provincial Defense Council and Governor of Ciego de Ávila, the meeting reiterated the need to increase self-responsibility and citizen discipline, as well as the effectiveness of intersectorality, where each agency is responsible for promptly assuming the fulfillment of the tasks that are assigned.
It is evident that the epidemiological complexity of this moment has been conditioned by international travelers and their contacts, who did not comply with the measures (https://bit.ly/3oz7Rno).
On the other hand, the number of cases without specifying the source of infection is a priority in daily combat. Their identification would help to reduce the number of patients who continue to spread the disease and who have a considerable incidence in the province.
"Carrying out an epidemiological survey with rigor and quality is a cornerstone in this process. The Ministry of the Interior has also given its willingness to collaborate and join the strategy implemented by the Directorate of Public Health, in order to specify the origin of the contagion in the shortest possible time, in cases where it is previously undetermined," Martín Venegas insisted.
The capacities are expanded in the isolation centers, and the necessary resources are secured in each one. At the meeting, it was reported that the Faculty of Medical Sciences of the municipality of Morón will receive asymptomatic positive patients, which implies strict compliance with hygienic-sanitary measures and all the conditions for their optimal care.
Alluding to the speed and capacity of the executives in managing solutions to the problems that arise, the Governor recognized the stability in the supply of hypochlorite at 10% since the beginning of the pandemic, by the Chloro Sosa factory, belonging to the Electrochemical Company of Sagua la Grande (https://bit.ly/3taZ26M) and that in the territory the Industry Subgroup has the responsibility to distribute. He also referred to the work that students and workers of the University of Ciego de Ávila Máximo Gómez Báez, Education and INDER, especially those of the Sports Initiation School, have carried out, with well-conceived actions, agility and responsibility in this battle for life.